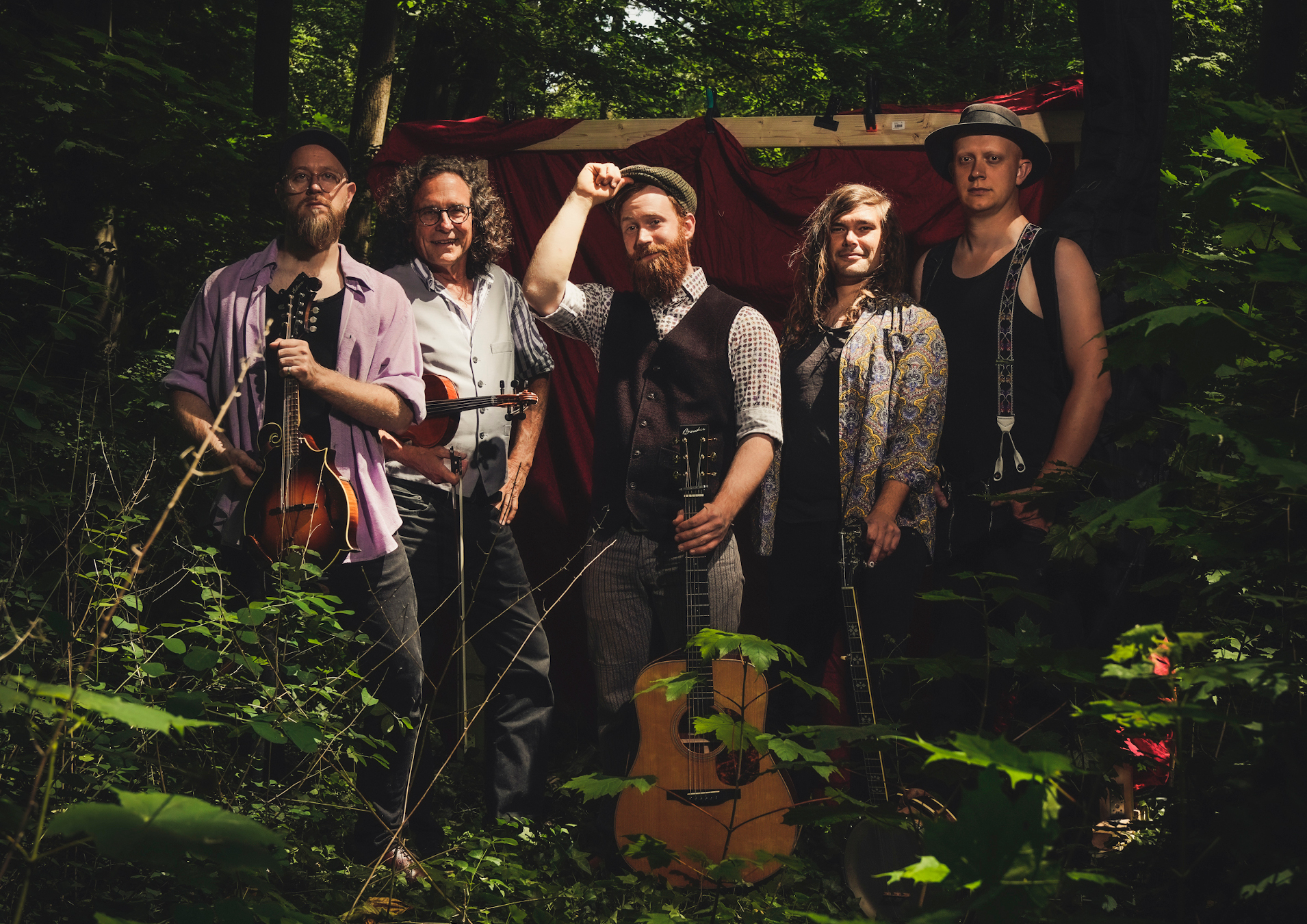 Hot solos, tight vocal harmonies, and in-the-pocket grooves best describe the music of the Bashed Potatoes. If bluegrass and acoustic music may still be an insider tip in Germany, the Bashed Potatoes are well on their way to take this music front and center stage. Just a microphone and five musicians—let the fireworks begin.
Joon Laukamp, Paul Lindenauer, Philipp Keck, Steffen Thede, and Pierce Black are individual masters of their instruments. Interestingly enough, each member has come to the group evolving from another background—jazz, folk, rock, classic and baroque music—two of the five are originally from the US and New Zealand. But it was their common love for the acoustic music traditions of the American south and their contemporary interpretations that first brought them together in 2015 at the Cologne Bluegrass Bash (CBB) jam session in Manni's Rästorang in Cologne. Familiarity bred contentment, and a band was born.
The Bashed Potatoes pack each performance full with the cosmopolitan story that makes up bluegrass music, a true melting pot of elements whose origins are found in European and Afro-American folk music. Their programs include traditional songs filled with spirituality, desire and loss, Newgrass songs on contemporary themes as well as hard-driving instrumentals, and original pieces.
Termine
Bashed Potatoes live in Concert
Tour Dates
September 28, 2023, 8 pm: Theater in der Filmdose, CD-Release-Party, Zülpicher Str. 39, 50674 Köln, tickets, open Jam Session at 10 pm
September 29, 2023, 8 pm: Folk Club, Kalkofenstr. 3a, 78050 Villingen-Schwenningen, more information
November 9, 2023: Kurhaus Bad Aibling, Wilhelm-Leibl-Platz 1, 83043 Bad Aibling
April 12, 2024, 8 pm: Halle 32, Steinmüllerallee 10, 51643 Gummersbach, more information
---
The Band
The Bashed Potatoes
Fiddle, Mandolin, Vocals
Joon Laukamp is a fiddler and mandolin player living in Cologne. Born into a family of musicians, he began playing violin at age seven. In high school he became interested in jazz and bluegrass, two genres he actively performs to this day. He studied jazz violin at the Cologne music conservatory and in the American Roots Program at the Berklee College of Music in Boston with Darol Anger and Casey Driessen. He has toured with diverse bands all over the world. Together with Bashed Potatoes member Philipp Keck he founded the Bluegrass Bude, a website source for instrumental and vocal instruction, workshops, and video tutorials. His mission with the Bluegrass Bude is to share and propagate what he finds to be the best of American Roots music.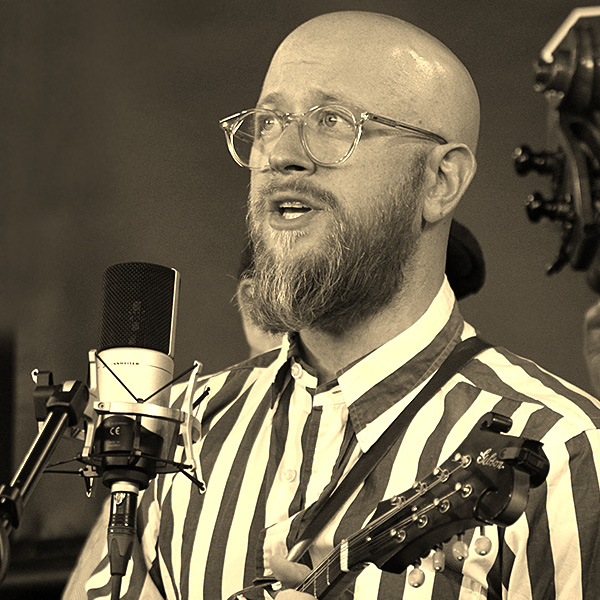 Fiddle, Vocals
Paul Lindenauer was born in the country that gave us the peanut, turkey and Halloween pumpkin. He arrived in Germany about 30 years ago to immerse himself completely in performing baroque violin and exploring "historically informed performance practice". Feeling immediately at home in the cultural, social and political climate on this continent, he considers himself a born-again European. He was a founding member of several leading Baroque orchestras in Germany, including Concerto Köln and La Stravaganza Köln, and played for many years with distinguished ensembles such as Collegium Vocale Ghent, Les Arts Florissants, La Chapelle Royale und Concerto con Anima. He teaches violin and viola privately and conducted for many years an amateur chamber orchestra in his adopted home in Waldbröl. A few years ago, he was bitten by the bluegrass mosquito and he fell into a fiddle-fever from which he has to this day not recovered.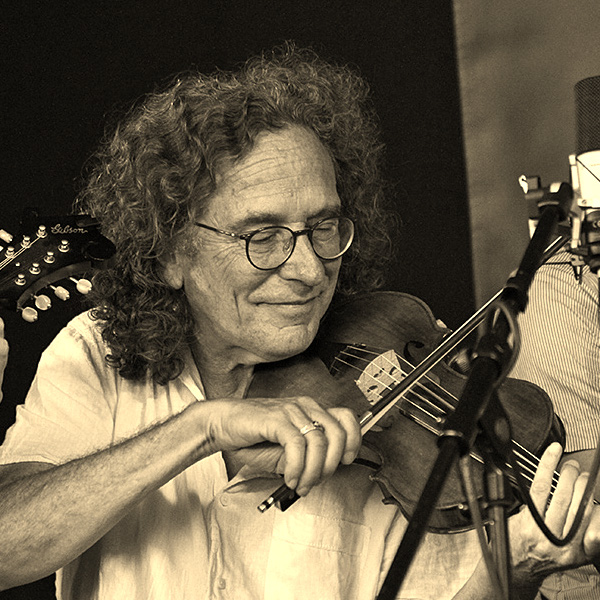 Guitar, Banjo, Mandolin, Vocals
Philipp Keck is a true multi-instrumentalist (guitar, banjo, mandolin, dobro, pedal steel, vocals, bass, drums), music pedagogue and video producer. He has been a freelance teacher since 2011 and is a graduate of the Cologne music conservatory. In 2012 a mandolin fell into his lap, and since then his heart beats in bluegrass time. Now he invests all his extra income in string instruments of every variety just to keep the beat. As a founding member of the Cologne Bluegrass Bash—the Cologne Bluegrass and Oldtime music collective—he produces jam sessions and concerts on a regular basis. Together with fellow Bashed Potato Joon Laukamp he founded the Bluegrass Bude website in 2020 (music lessons, workshops, and video tutorials). Philipp is a well-known Cologne studio musician and tours with diverse bands and projects throughout Germany. He is the former mandolin player in the band Covered Grass and has played together with the American mandolin virtuoso Mike Marshall.
Banjo
Steffen Thede, while bass player of the stoner rock power trio Goldmouth, performed over 120 concerts inside of two years in Europe (including the Hurricane and Southside Festivals), China, and in the USA. Born in Schleswig-Holstein, the multi-instrumentalist was awarded a scholarship in 2014 by the Deutscher Musikrat (German Music Council) to the program Popcamp, a national master class for popular music. As a 20-year-old, Steffen discovered the 5-string banjo, and advanced through the differing facets of folk and jazz to arrive at the bluegrass style. Since then, he has been performing with various top-notch bands and has established himself high in the firmament of the European bluegrass scene with his unique, virtuoso approach to the instrument.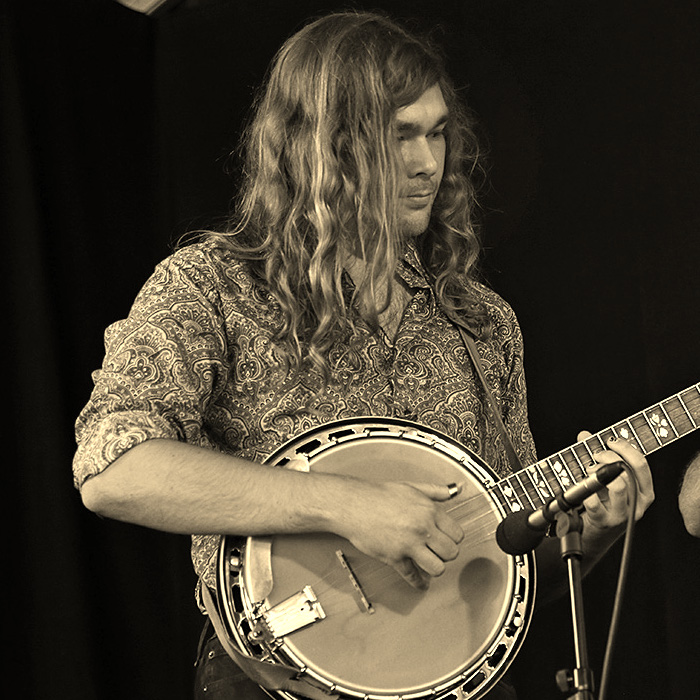 Bass, Vocals
Bass player, composer, festival director and teacher Pierce Black was born in New Zealand and studied classical bass at the Cologne music conservatory. Already during his studies, he began to make a name for himself as genre-breaking jazz, bluegrass and folk musician. He was nominated in 2015 for the Peer Raben Music Award and composed music for the film "Kinder" (2019) by Nina Wesemann in cooperation with Radio Berlin-Brandenburg and ARTE. He has toured the world, playing with various musicians and ensembles, including violinist Daniel Hope, the Cölner Baroque orchestra, the Kammerorchester Köln, and the Collegium Musicum Köln. Pierce has recorded numerous CDs as a band member and songwriter, among others "to the Wind" (2013) and "Riding with the Elephant" (2015). He is a founding member of the Cologne Bluegrass Bash and directed the first Cologne Bluegrass Bash Festival in 2019.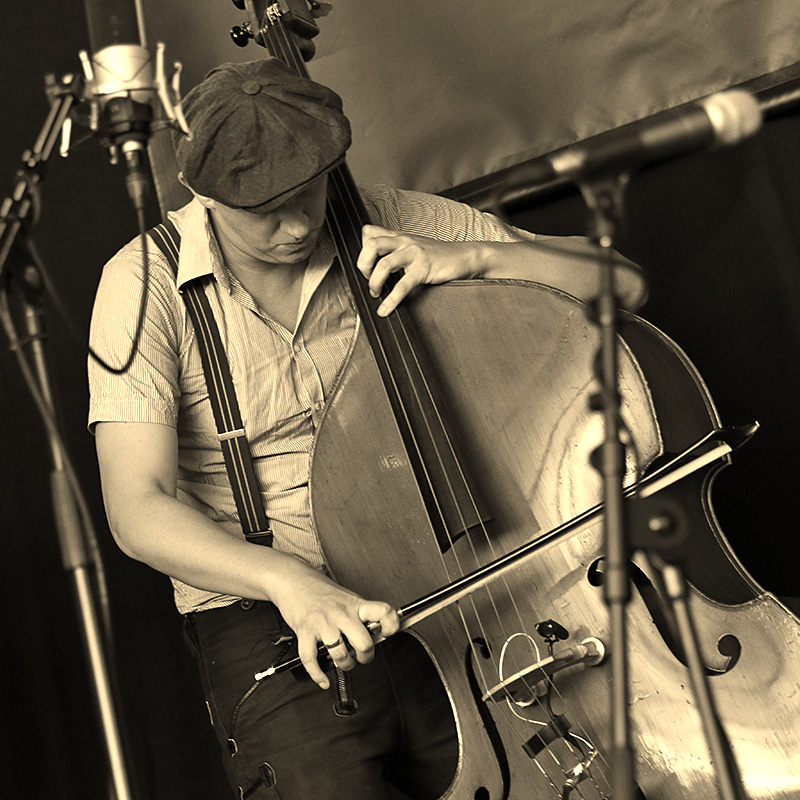 Gallery
Bashed Potatoes Photos